Gibberellin A1 was initially identified in Gibberella fujikuroi
Takahashi, N., Kitamura, H., Kawarada, A., Seto, Y., Takai, M., Tamura, S., and Sumiki, Y. (1955) Bull. Agric. Chem. Soc. Japan, 19, 267-277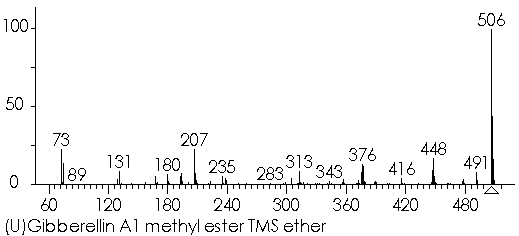 Mass Spectrum of Gibberellin A1 methyl ester TMS ether.
Molecular weight =506.2508
Base peak =506
Retention Index = 2659
The data for these pages was compiled and collated by Jake MacMillan, Paul Gaskin and Steve Croker.
For details of how to obtain the full Mass Spectral library of 2000 spectra of Gibberellins and related spectra please click below.